Prolom Banja Wellness Centre occupies a surface area of 2,000 square meters on three levels. Wellness content makes the first level of our Wellness Centre, including as follows: Finnish sauna, swim jacuzzi, tepidarium, Salt Room, steam bath and outdoor and indoor swimming pools with spacious terrace.
Finnish sauna
Air temperature is between 80 °C and 100 °C with recommended stay of 15 minutes. The sauna heat  improves blood circulation, thus enabling the release of toxins and improving circulation. Strengthens the immune system, relaxes the body from tension and stress, while the skin gets a healthy glow, keeps tonus and elasticity.
Swim jacuzzi with Prolom Water
Swim jacuzzi includes massage jets and the Prolom Water temperature is from 33 °C to 35 °C. Stay in the pool has positive effect on the nerve system, metabolic processes, and thanks to its high balneology therapeutic value, Prolom Water will have positive effect on your skin, muscles, nephrology and gastrointestinal systems.
Tepidarium
Loungers heated from 37 °C to 39 °C slowly heat the body without sweating while blood vessels widen; improves the blood flow and strengthens immunity. Heated loungers are very comfortable and have a pleasant effect on the nervous system returning our body to natural balance. Due to positive and soothing effect on the body, it is recommended for persons of all ages.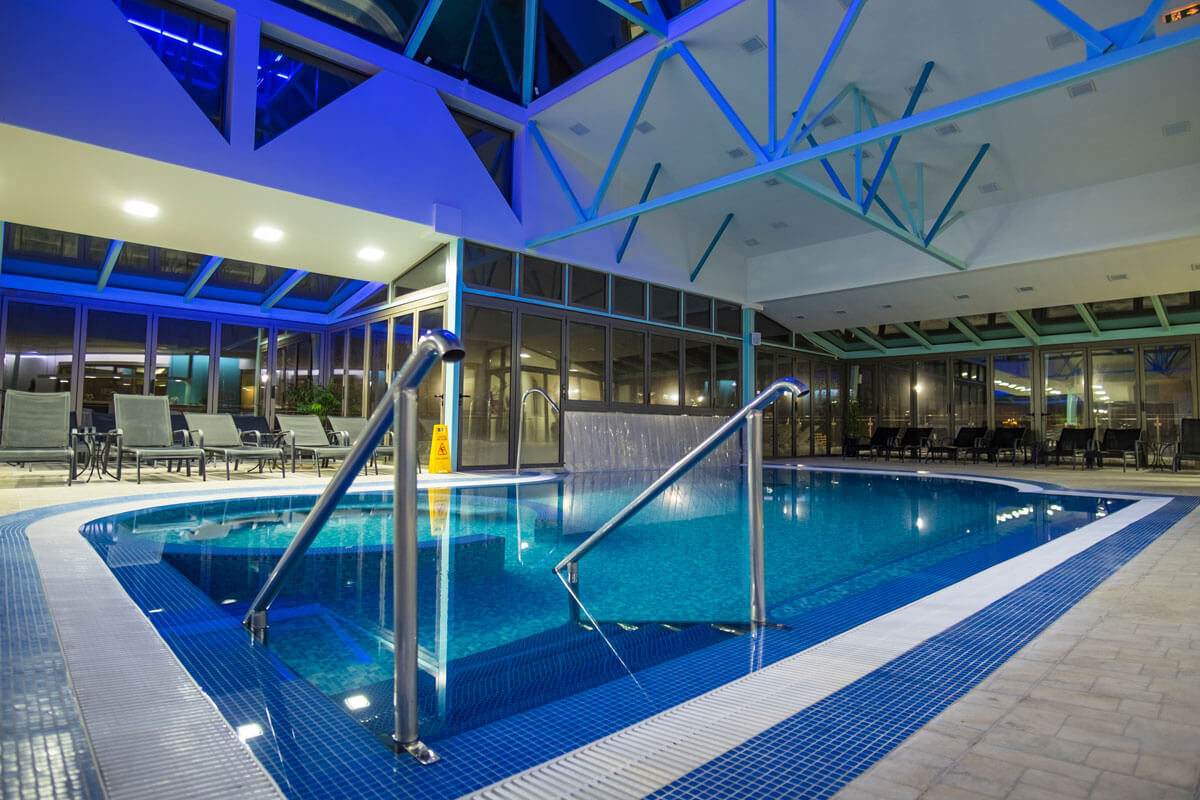 Outdoor and indoor swimming pools
Swimming pool is filled with Prolom Water, of temperature of  32 °C, enabling bathing even in the winter. Thus, we have united the power of swimming, as one of the healthiest physical activities, and mineral Prolom Water. It is a unique experience to surface from Prolom Water with unforgettable view  on Church of the Holy Transfiguration of Our Lord, at the very heart of Prolom Banja.
Steam bath
Steam or Turkish bath is a type of sauna with high air humidity even up to 100 % and temperature from 40 °C to 50 °C. The optimum time to stay in the steam bath is 20 minutes. It is especially recommended for persons with respiratory problems, but also healthy ones, for detoxication of the lungs and the whole body.
Look at Wellness packages